What is Physical NFT? Bringing NFT to every business.
Most people understand that NFT, which stands for Non-Fungible-Token, is selling art pieces, collectibles, or games. Still, NFT can be applied to more than that. So today, we're going to explain what Physical NFT is.
Get to know benefits of Membership NFT
What is a Physical NFT?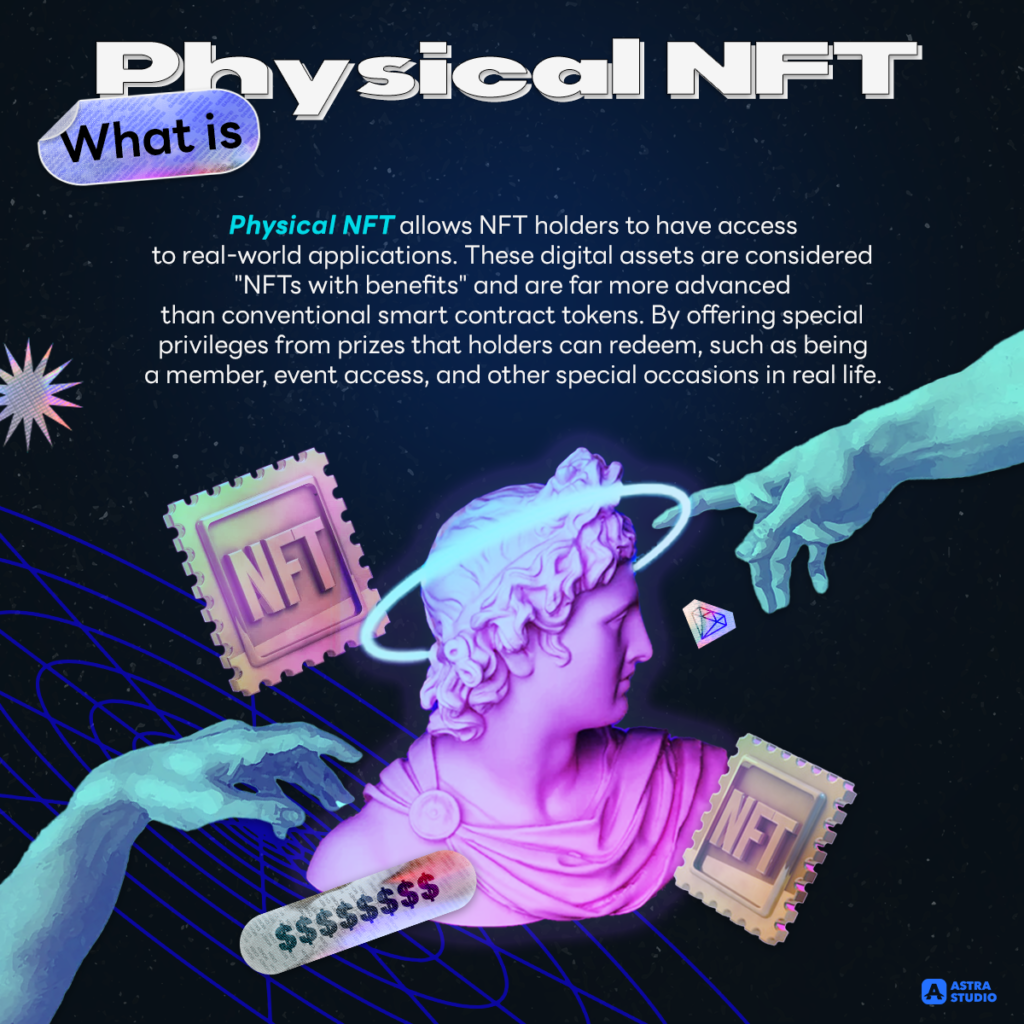 These NFT allows holders to have access to real-world applications. These digital assets are considered "NFTs with benefits" and are far more advanced than conventional smart contract tokens.
By offering special privileges from prizes that holders can redeem, such as being a member, event access, and other special occasions in real life.
What are the strengths of Physical NFT?
The future of NFT is continuing to evolve, and it can be applied to many terms. Multiple businesses are satisfied with the utility of NFTs due to the continuous development that makes people realize how NFTs can connect with real life. Therefore, various features have been added to allow people who collect NFTs to get more privileges. And as an incentive for NFT holders, not only collecting or using them in the virtual world.
Physical NFT in business?
Adidas
Adidas entered the metaverse in 2021, launching NFT in partnership with the Bored Apes Yacht Club. In this project, NFTs sell for millions of dollars and are favored by celebrities like Jimmy Fallon, Eminem, and Paris Hilton. Moreover, Adidas Originals buyers can also claim exclusive physical items such as hoodies, tracksuits, and beanies.
RTFKT Studios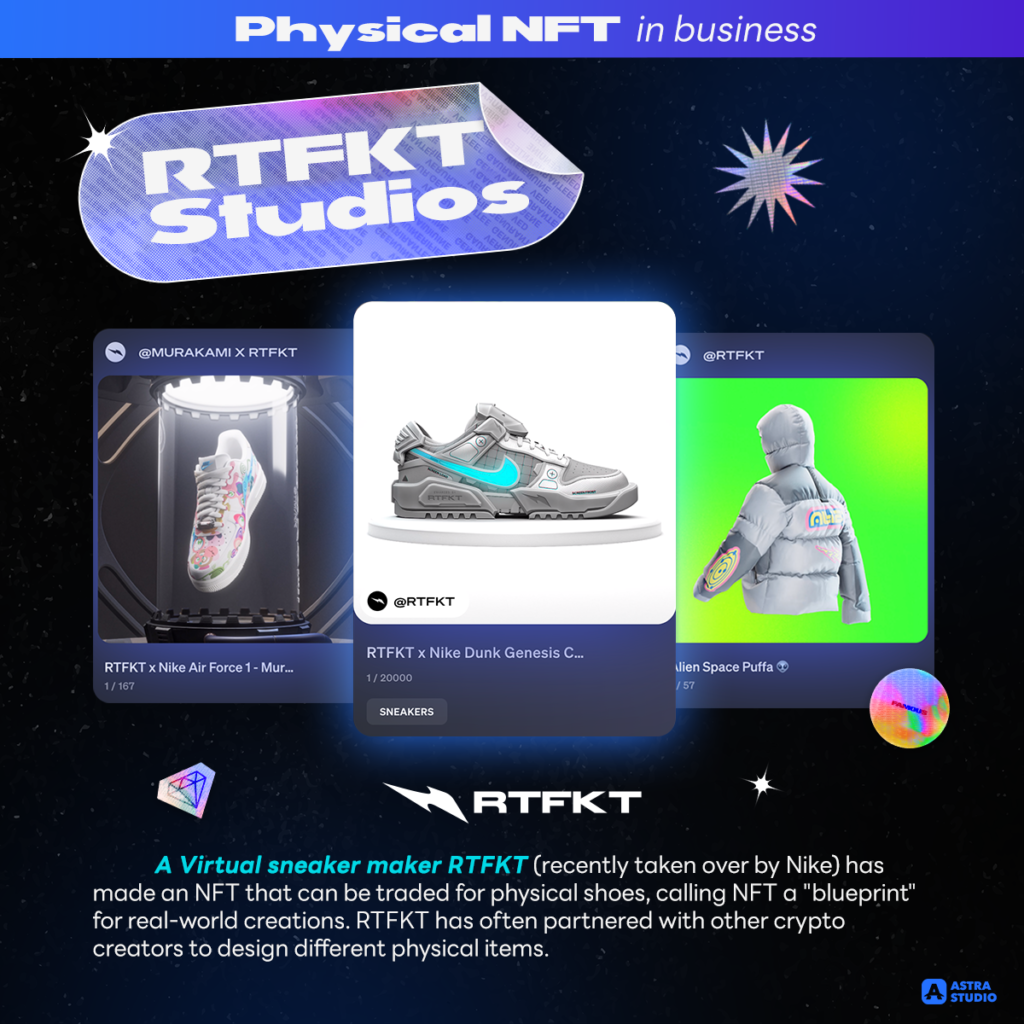 A Virtual sneaker maker RTFKT (recently taken over by Nike) has made it can be traded for real life shoes, a "blueprint" for real-world creations. RTFKT has often partnered with other crypto creators to design different physical items.
WENEW
NFT platform founded by pioneering digital artist Mike Winkelmann (also known as Beeple) that aims to sell "outstanding" historical moments and cultural milestones, such as the Victory in Wimbledon 2013 from Andy Murray. In addition to tokens, digital collectors can get a picture frame or video that displays the NFT work within that image.
GAP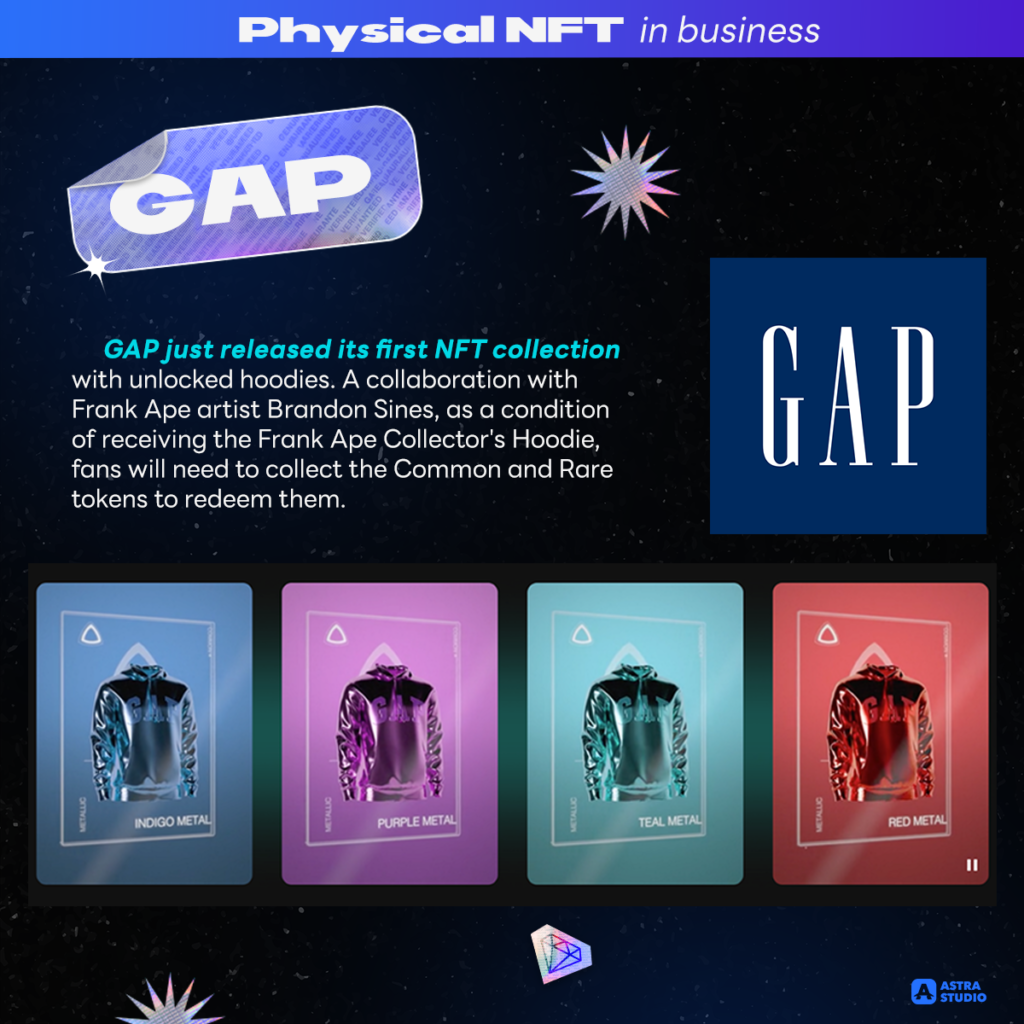 First NFT collection with unlocked hoodies. A collaboration with Frank Ape artist Brandon Sines, as a condition of receiving the Frank Ape Collector's Hoodie, fans will need to collect the Common and Rare tokens to redeem them.
Mattel
Legendary toy maker Mattel enters the world of NFT with Gary Vaynerchuck, launching UNO cards featuring Gary Vaynerchuk's VeeFriends NFT characters. Mattel aims to bridge the gap between games, art, and collectibles.
Benefits of Physical NFT
The most significant advantage of physically creating NFTs is verifying their authenticity and origin. In a world where counterfeit markets are worth over $500 billion, a valuable tool for buyers and sellers. With blockchain technology, data attached to virtual and real assets cannot be changed, forged, or altered by providing reliable route information.
Another important advantage is cutting out the middleman from the transaction, which provides freedom and financial returns to buyers and sellers.
Finally, NFTs can be associated with recurring royalties. For this reason, every time an asset changes hands, the seller can be disqualified.
If anyone is interested in NFT or blockchain technology to develop their own business. You can ask for more information. Astra Studio has experts to give advice and consultation and a team that can help build your business to be ahead of the curve before anyone else.
Please make sure you do not miss any updated news by following our social media as follows:
Facebook: https://www.facebook.com/astrastudio.digital
Medium: https://medium.com/@AstraStudio
Website: https://astrastudio.digital/