How to design Gamification in UX?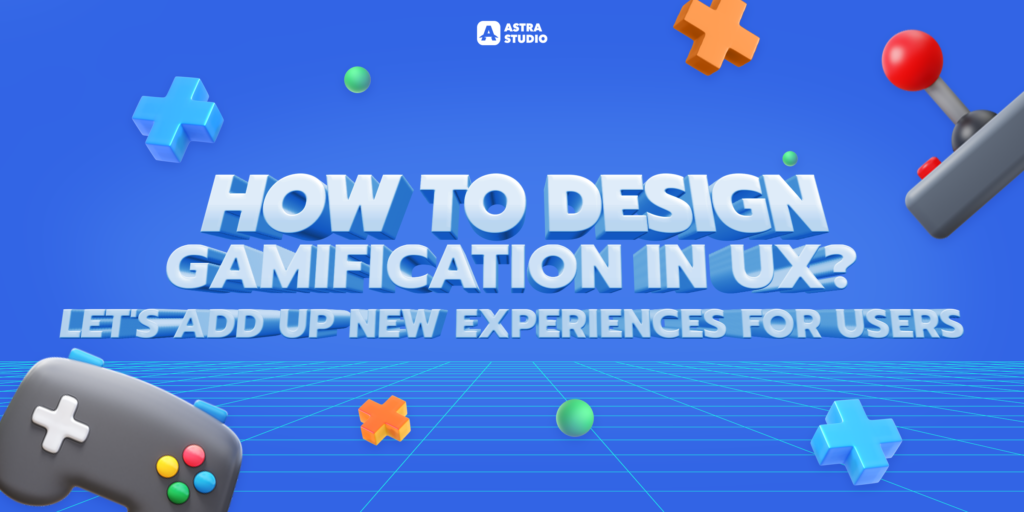 Gamification has become one of the hottest trends in UX design in recent years. Naturally, games play a huge role in spicing up people.
Games can motivate, help us learn and, most notably, relax after a stressful day. Over the years, we have had exciting experiences with the game to make our daily life more colorful.
With technology overgrowing, software designers can better respond to user needs. This approach allows designers to apply new techniques to increase user experience and engagement continually.
What is Gamification?
Gamification is a technique that helps designers to add features and gameplay mechanics to keep users engaged, such as mobile applications and websites. Gaming elements enhance user experience and engagement with a service or product.
In this case, the designer may add game features, such as challenges to the services, to stimulate more user interaction with the website or mobile application. Using game-based interaction keeps users more involved.
For example, checking in to a website or application to receive rewards. Such elements motivate users and influence their behavior as "players" to perform the expected actions.
Types of Gamification Elements for UX Improvements
Gamification is a complex design process that requires different game elements based on interactive UI mechanisms, but it feels like a game. Here are some game technicians applied to improve UX design:
Challenge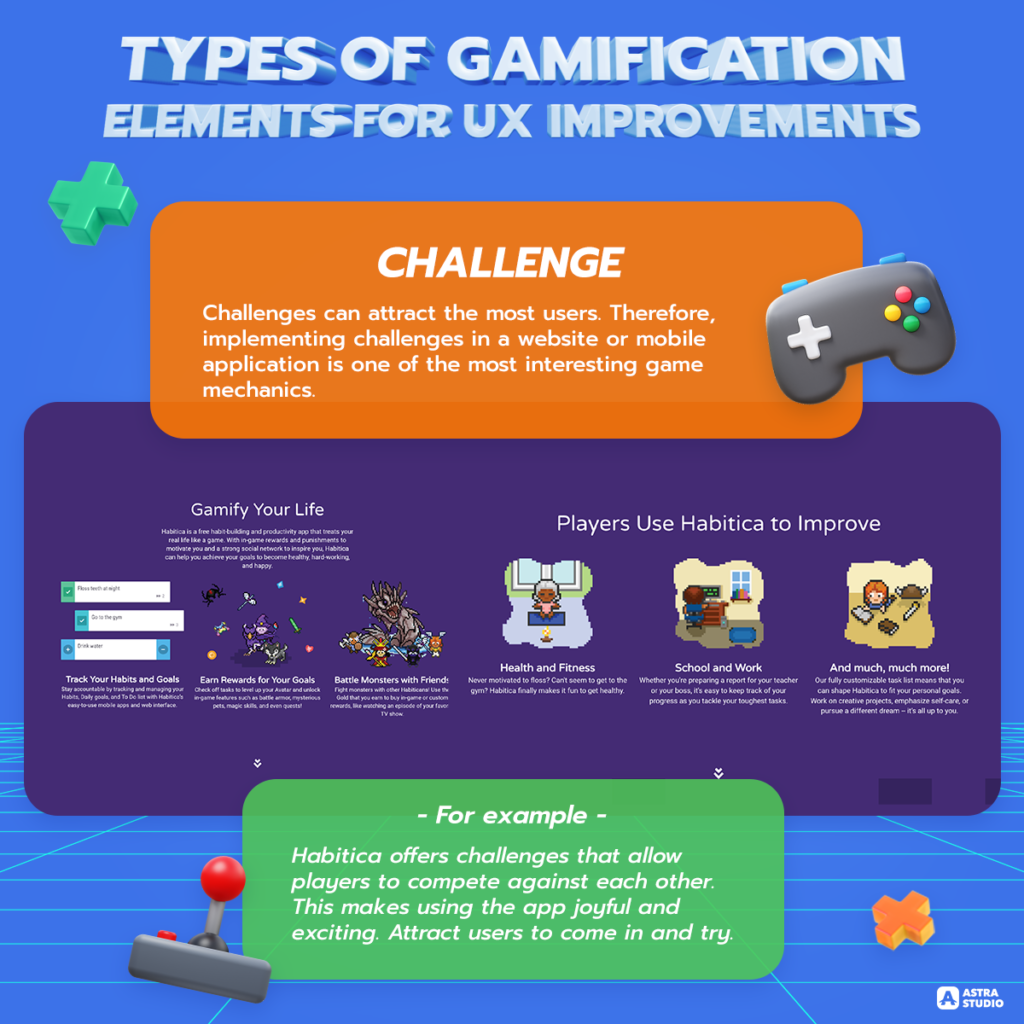 Challenges can attract the most users. Therefore, implementing challenges in a website or mobile application is one of the most interesting game mechanics. This makes it a valuable tool for improving UX. However, you can add rewards to enhance the challenge effect and keep people more motivated.
For example, Habitica offers challenges that allow players to compete against each other. This makes using the app joyful and exciting. Attract users to come in and try.
Stickers and Badges
In this case, the user receives stickers and stamps when completing a task or collecting a certain number of points. Although most people are familiar with virtual prizes, such prizes can be designed differently. Any virtual rewards can be great incentives for users.
For example, Duolingo (a language-learning app) uses badges to reward users for reaching a certain number of skills.
Points
Most games use a points system to measure players' success in beating challenges. Users can rate their engagement with the application or website, while product owners can view their success. The best idea is to count points based on video views or check-ins.
An example is Codecademy Go, where people visit online to learn coding and software development. Give points for completing exercises.
Leaderboards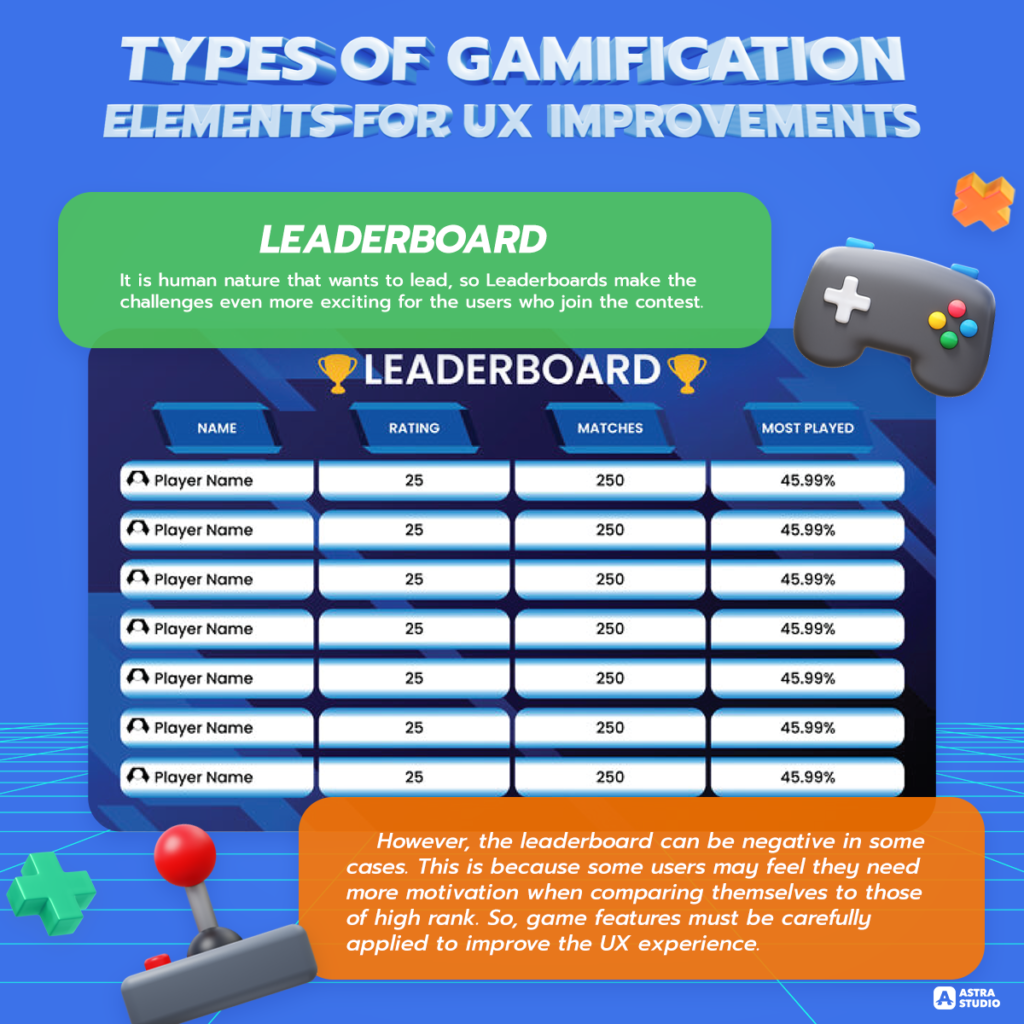 It is human nature that wants to lead, so Leaderboards make the challenges even more exciting for the users who join the contest. Choosing a system that paces users regarding who has more badges can raise energy and help them learn more about the application or website.
However, the leaderboard can be negative in some cases. This is because some users may feel they need more motivation when comparing themselves to those of high rank. So, game features must be carefully applied to improve the UX experience.
Why Is Gamification in UX Design Important?
Gamification is one of the most vastly used methods in design now. It solves many UX problems by properly using this technique and incorporating the correct game features that help designers improve user experience and engagement.
As mentioned previously, gamification brings joy to applications and websites. Users can directly experience the process of interacting with websites or apps, competitive nature, and fun, simply like in a video game. This motivates them to use the product and makes them return for more.
What's more, completing the game also includes challenges with prizes and rewards given to those who can overcome them. This creates excitement and curiosity, motivating people to take action and spend more time on websites or applications.
Therefore, gamification is one of the effective design practices nowadays. Moreover, many designers take gamification seriously in their projects to improve user experience and engagement as well.
Astra Studio develops gamification to improve your website or application more interesting. So let's give your users a new experience like never before with us.
Please make sure you do not miss any updated news by following our social media as follows:
Facebook: https://www.facebook.com/astrastudio.digital
Medium: https://medium.com/@AstraStudio
Website: https://astrastudio.digital/