9 Best Website Layout Examples for UX/UI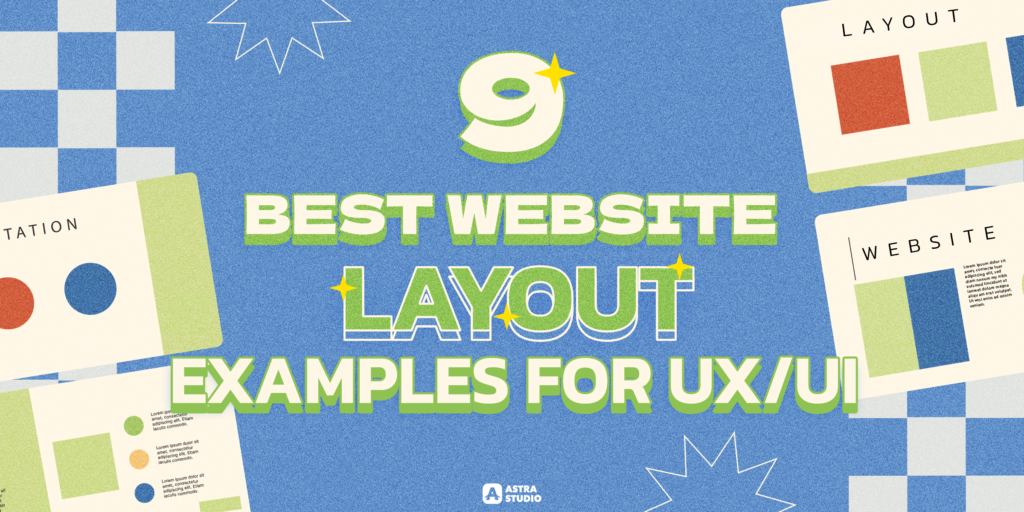 It's time for everyone to explore new ideas in design. What is a good website layout design? How to attract many users? Today we have the answer.
What is a Website Layout?
The website layout is the framework that represents the structure of the website. The layout positions the major elements of the website front and center.
It can provide users with a precise track for navigation. The website layout is essential to determine whether a website will succeed or fail.
The purpose of website layout is to enhance user engagement, make the web page appealing and manage the website's content to be consistent in a clear order.
Things to know about layouts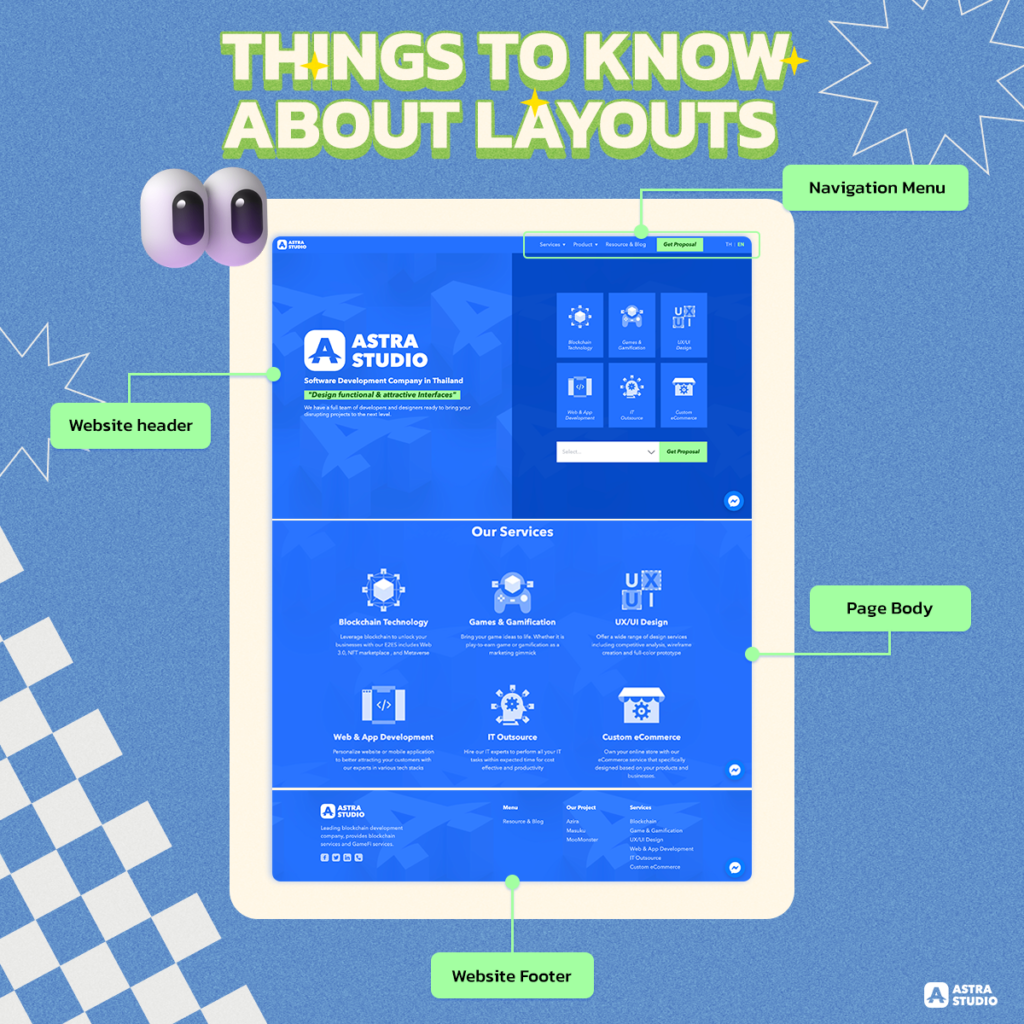 Although we can see the looks of layouts to choose from in professional web design, there are still important elements that each style of layout must have. It is well known that the core elements of layout are the critical elements in defining the interface structure and navigation flow, so we should design it attractive and efficient to users. One thing we must keep in mind when planning our layout is to include the following topics:
It should capture the simplest navigation elements. It conveys the basic structure of your website and how to find what users are looking for.
Refers to the main parts of the web page, such as content, images, main text, etc.
Even in the form of a sidebar, hamburger menus, sub-headers, big menus, scroll triggers, and more.
The footer typically includes social channel links. For example, copyright notices, privacy policy links, and other alternative items such as duplicate header menu content, calls to action, such as "sign up," "contact us," or even a submission form.
9 Most Effective Website Layouts
Understanding the various layout types for web designers becomes the foundation of any design workflow and path to success. Looking at the website layout design examples, we have presented might give you a better understanding.
1. Single Column Layout: The World Famous iPad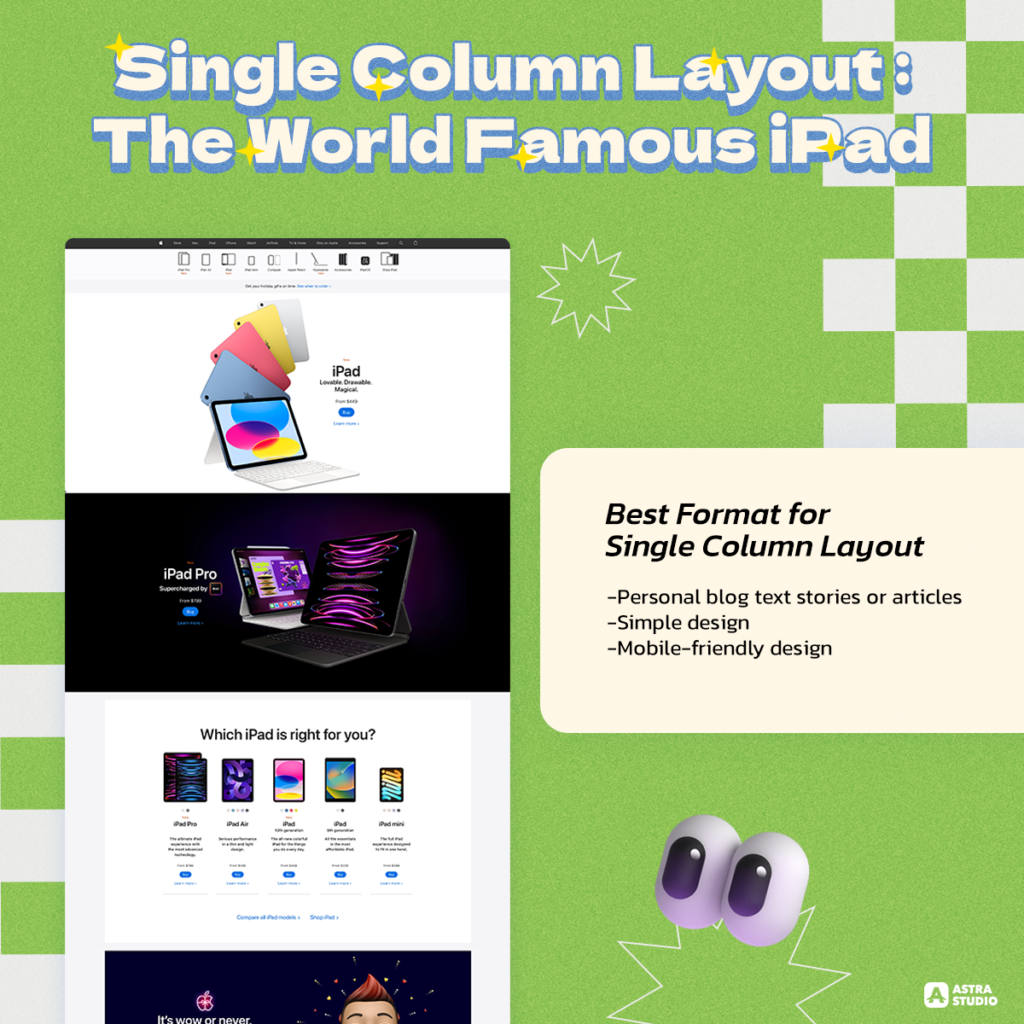 On Apple's iPad product page, the single-column layout shows the main content in a single vertical column using white as the background so users can scroll down smoothly and the big-sized picture is clear. This innovative use of white space allows the page's main content to appear more detailed and organized.
We can see here that single columns and white space are perfect choices when used correctly. The single-column layout will make it easy for users to visit your site.
Best Format for Single Column Layout
Personal blog text stories or articles
Simple design
Mobile-friendly design
2. Two-Column Layout: Hetime
A two-column layout describes a page divided vertically into two sections/columns by dividing the screen into two parts vertically (Sections can be the same width but can be divided differently.) A two-column layout is recommended for pages with two main body sections that share the same priority level.
Like the example we gave, the benefit of a two-column layout is taking advantage of the page's width and making room for a perfectly detailed image. Alongside descriptive text that finds the fewest words they need to tell their story, the sentences are concise, the call to action is clear and easily identifiable, and images accurately display content.
Best Format for Two Column Layout
Displaying images and text elements of co-significance
An engaging or even interactive experience
3. Three Boxes Layout: KatchMe
As you scroll down Site Layout, "Three Boxes" describes a page with one main graphic content area followed by two smaller boxes or parts below. Each section can contain content, like graphics, text, or a combination. As mentioned above, three-box layouts are often used for pages that need to present multiple large photos in an organized hierarchical manner.
Applying a three-boxes layout is special because it allows designers to gain the benefit of both the full-screen width and the "partial" or "division" area. Since each design element often has a unique width and overall size, a three-box layout is a good choice for supporting several content types in case-specific formats that best complement the look.
Best Format for Three Boxes Layout
Include video content and static image content
Graphic portfolio pages or some samples
Image hierarchy between multiple images on a page
An e-commerce site with featured product images and related products
4. Split-screen Layout: Bose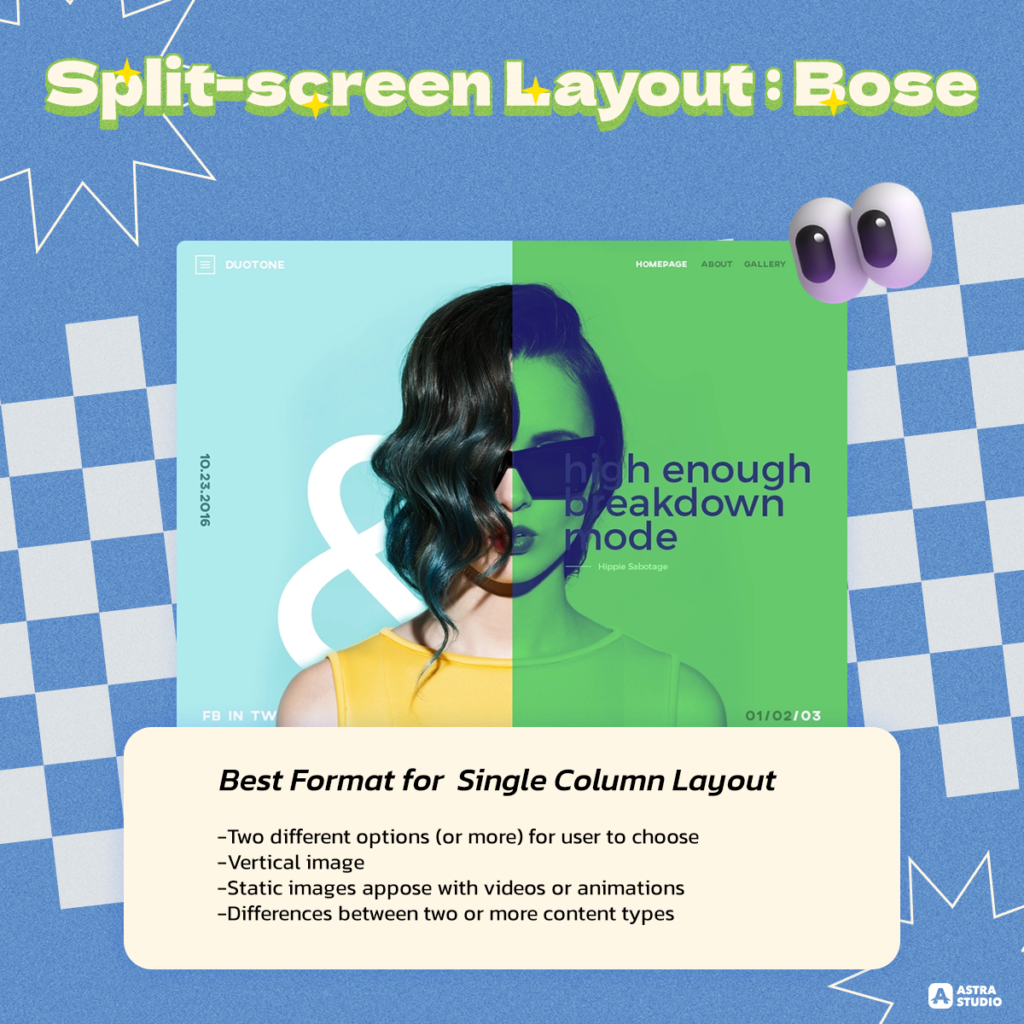 When the page's main content area is split into two or more parts vertically, the division is rational and orderly. A split-screen layout can provide a unique viewing experience for your users.
This example from Bose's website is highly unique, and five-column screens are less common than split-screen sites with two or three columns. Using a uniquely creative split layout shows how to transform the look of split-screen layouts.
Best Format for Split-screen Layout
Two different options (or more) for user to choose
Vertical image
Static images appose with videos or animations
Differences between two or more content types
5. Asymmetrical Layout: Underbelly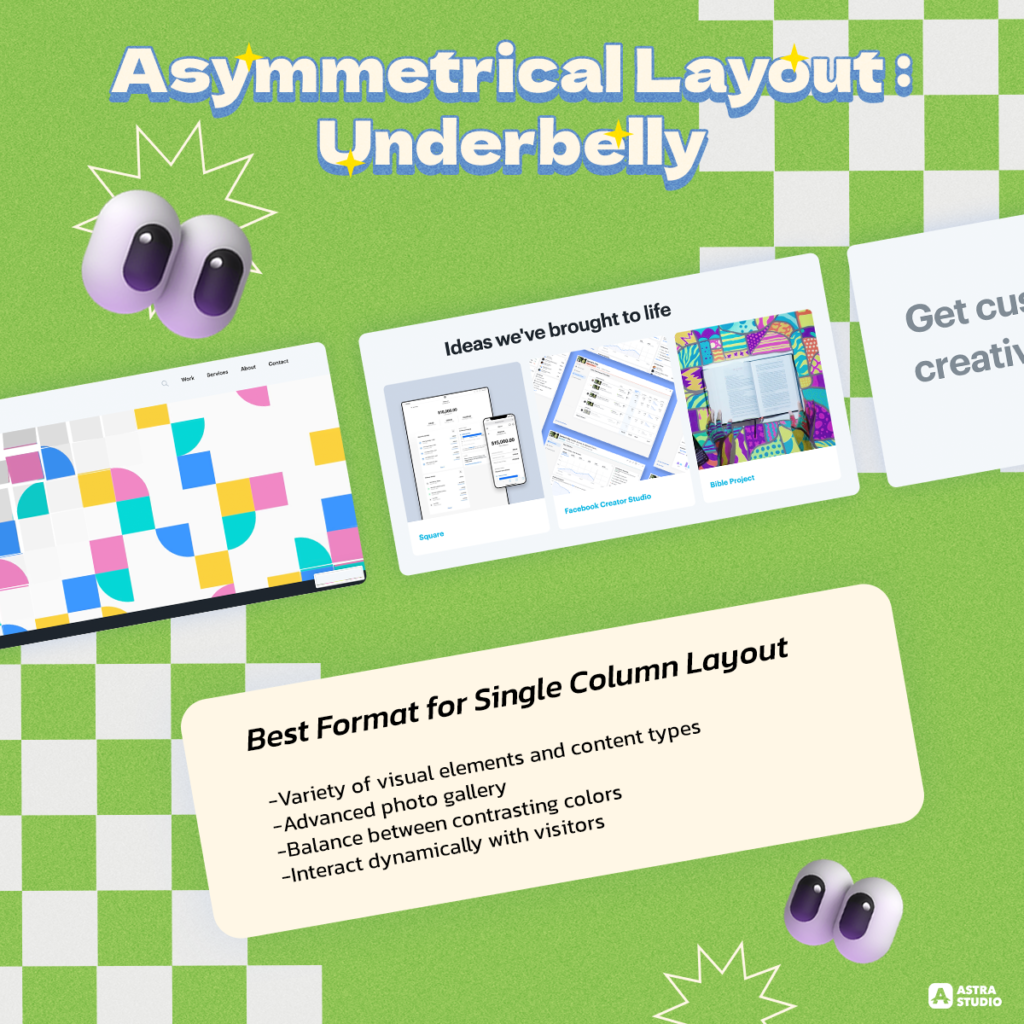 Underbelly is a digital design and development organization in Salt Lake City, Utah, which offers a wide range of services for brands and businesses. Including interactive projects, development, branding, marketing, and content creation. When you scroll down on the first page, you'll notice big brand names like Facebook, Citi Bike, and XBOX.
Underbelly's homepage is an asymmetrical layout in every sense. Because it perfectly defines the most basic definition of an asymmetrical layout: the uneven distribution of different-sized content across the page without any symmetry between them.
Underbelly also uses the theme of diversity in its selection of visual content types to keep with the concept of asymmetry. This includes full-size photos, photos with filters, simple squares with solid backgrounds, and of course, the full-width video background slideshow is versatile on its own. Because it mixes different media types: video, illustration, and actual footage.
Best Format for Asymmetrical Layout
Variety of visual elements and content types
Advanced photo gallery
Balance between contrasting colors
Interact dynamically with visitors
6. Fixed Sidebar
In web designing, the sidebar is set as a fixed navigation menu on a web page. It's the same place where users browse and scroll down, which always remains visible.
Best Format for Fixed Sidebar
Easy access to main functions
Advantages of using
Many category pages or single pages
7. Full-screen Media Layout: THE HALL OF ZERO LIMITS
The hall of zero limits is a collaboration site with famous drinks and hot movies of the era, like Sprite and Wakanda. When you enter, there's a full-screen advertisement for the homepage design. This means using the background video as the main image but adding some gimmicks. Suitable for responsive design offers an interactive view of content. This type of media layout helps to generate user interest when visitors first land on your website.
Best Format for Full-Screen Media Layout
When layout in full screen is needed
Highlight the use cases of the product
Strong branding
8.Grid Layout: Malika Favre
As you can see from this website created by French artist Malika Favre in London, the grid layout exhibits multiple images and artworks in one interface. Therefore, the balance in the web design, the challenge of juggling color differences between various illustrations, could be clearer with the overall color block style of the grid.
Starting with a modular grid, then play around half a page in a hierarchical grid layout. This design choice lets visitors know which projects might stand out more in the design portfolio.
Another unique design strategy for this example is the option for no gaps between images, which is called gutters. It can improve the look and sense of website content with a unique and beautiful presence.
Best Format for Grid Layout
Organized media gallery
Image with text overlay
A blog with a clean layout.
9. Boxes Layout: HAKAJI
The layout is widely prevalent among web designers. Box layout type refers to web pages with a large opening full width (usually a full-width image or video, but only sometimes) followed by a small box below. Ideally, the number of these small boxes should range from at least two to no more than five.
Best Format for Boxes Layout
Pages with multiple media types and sizes
Provides a wide-visual
Responsive visual layouts
Evergreen website layouts
As you can see, there are many different types of website layouts to start with. Naturally, it depends on the suitability of your business and which style is right for you. Therefore, the designer has to make it the most impressive.
Astra Studio, we have teams of experienced to help you with any website design services or design in other parts. We cover every service to meet customers' highest satisfaction for making the project the most efficient, and better than you ever had. You can contact us through these channels if you are interested in our additional services.
Please make sure you do not miss any updated news by following our social media as follows:
Facebook: https://www.facebook.com/astrastudio.digital
Medium: https://medium.com/@AstraStudio
Website: https://astrastudio.digital/