5 Technologies You Should Know to Take Lead in Business
Nowaday, technologies advance a lot. We can adopt technology in our business and all relevant processes.
SMEs and large-sized businesses can adopt technologies when they see fit. Let's see how technologies can help your business grow.
How technology can help your business?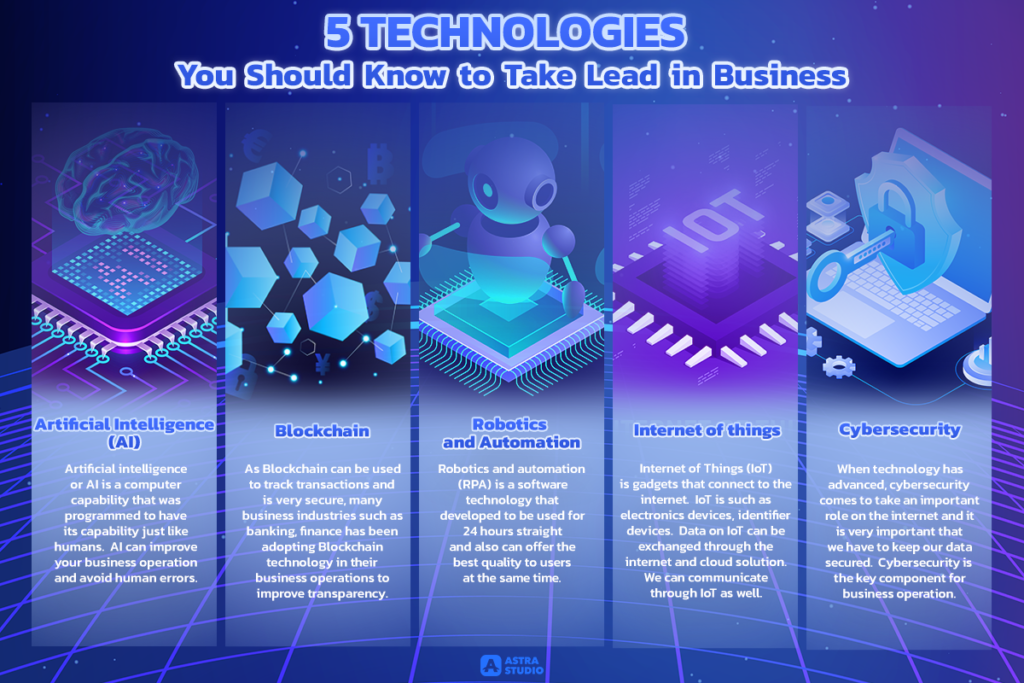 Technology is a key element in every industry. If you adopt appropriate technology to suit your business, it can help you operate business easier. It can also help entrepreneurs manage timetables to develop their work in other areas. Let's take a look at 5 technologies that can help our business.
Artificial intelligence (AI)
Artificial intelligence or AI is a computer capability that was programmed to have its capability just like humans. AI can improve your business operation and avoid human errors.
Blockchain
As Blockchain can be used to track transactions and is very secure, many business industries such as banking, finance has been adopting Blockchain technology in their business operations to improve transparency.
Robotics and automation
Robotics and automation (RPA) is a software technology that developed to be used for 24 hours straight and also can offer the best quality to users at the same time.
Internet of things
Internet of Things (IoT) is gadgets that connect to the internet. IoT is such as electronics devices, identifier devices. Data on IoT can be exchanged through the internet and cloud solution. We can communicate through IoT as well.
Cybersecurity
When technology has advanced, cybersecurity comes to take an important role on the internet and it is very important that we have to keep our data secured. Cybersecurity is the key component for business operation.
All of the above is a part of the important role of technology that entrepreneurs should be aware of. Implementation of technology can reduce processes and enhance efficiency in business operations. If you want to adopt technologies in your business, you must start now so you can take the lead in the industry.
Please make sure you do not miss any updated news by following our social media as follows:
Facebook: https://www.facebook.com/astrastudio.digital
Medium: https://medium.com/@AstraStudio
Website: https://astrastudio.digital/