What is digital transformation and how it affects business?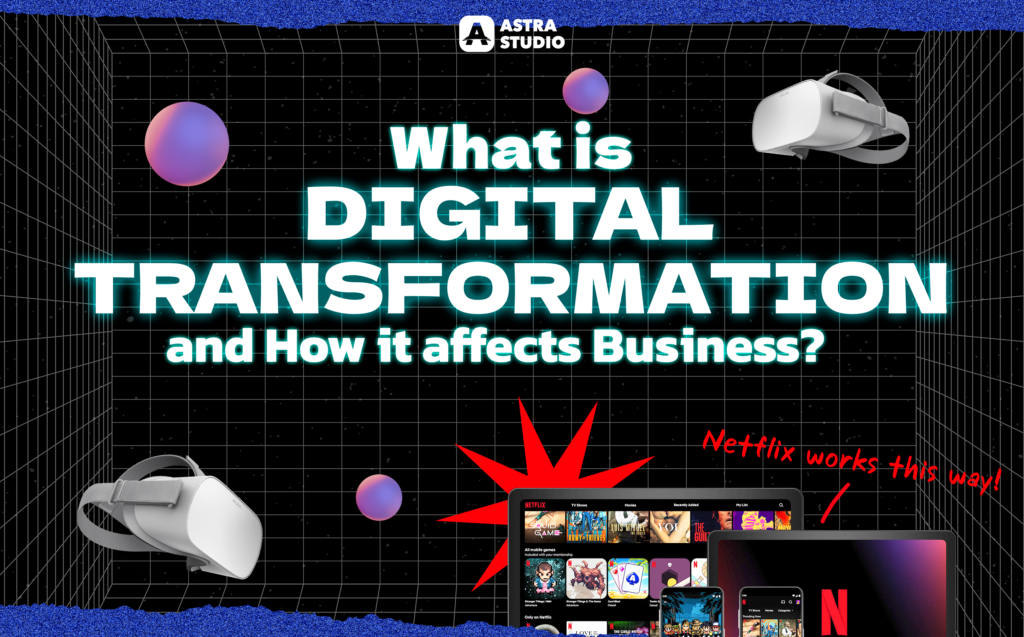 Business operation nowaday is so much different than the past, many businesses have to transform themselves so that they will not miss the trends.
As today, our world is coming to the globalization age, thus, many businesses have to use digital tools to adapt their operation. This is called "Digital Transformation", which can improve an internal practice of business to be more effective
What is Digital Transformation?
Digital Transformation is a usage of technology to improve and invent new things. Small to large businesses can bring the use of technology into their businesses and digitize their operation.
Digital Transformation will produce new opportunities for us. If we do not adapt ourselves, we may lose. Previously, Blockbuster was very famous and no one could compete but today Netflix came to the movie market and has become the biggest movie providers that many people use. Everyone can watch movies on the internet. Now, Netflix is a leading film company and one of the biggest Digital Transformations that happened in the world.
We can adapt Digital Transformation into an internal organization. Digital Transformation within the organization can improve internal processes to be more methodological. Using digital tools can help us work more effectively.
Purposes of Digital Transformation
Service providing is the most important part of business operations. We can adopt technology to our business so we can service clients better. If the clients like our services, we can make more profit from our businesses
Improve cooperation within organization
technology can improve cooperation within the organization as well. We can adopt technology into documents management system. We can cooperate and interact with each other more effectively.
Create new business model
The development of technology can innovate the existing business into a new business model. Business operations will be more efficient and meet the demand of clients. For example, in the past, we used to listen to music from CDs and radio, but nowadays we can listen to music from various music streaming applications like Spotify and Apple Music.
Improve business information security
Information security is a business concern. Because if we store business information on the internet, there is a chance that those data may be hacked. As we move into the IoT era, security will be a priority.
Improve production efficiency
Modern technology can help the efficiency of production. Business can reproduce its products and remain competitive quality. This allows employees to spend less time on production steps and can have time to check other matters
What does Digital Transformation result in?
help organization access software and news updates and can store data anywhere at any time
help organization have insight information and have and have
more accurate in sales, marketing, product development and other strategic aspects
Invention of new technologies
such as Blockchain, AR, VR, Social Media, IoT
Digital Transformation in businesses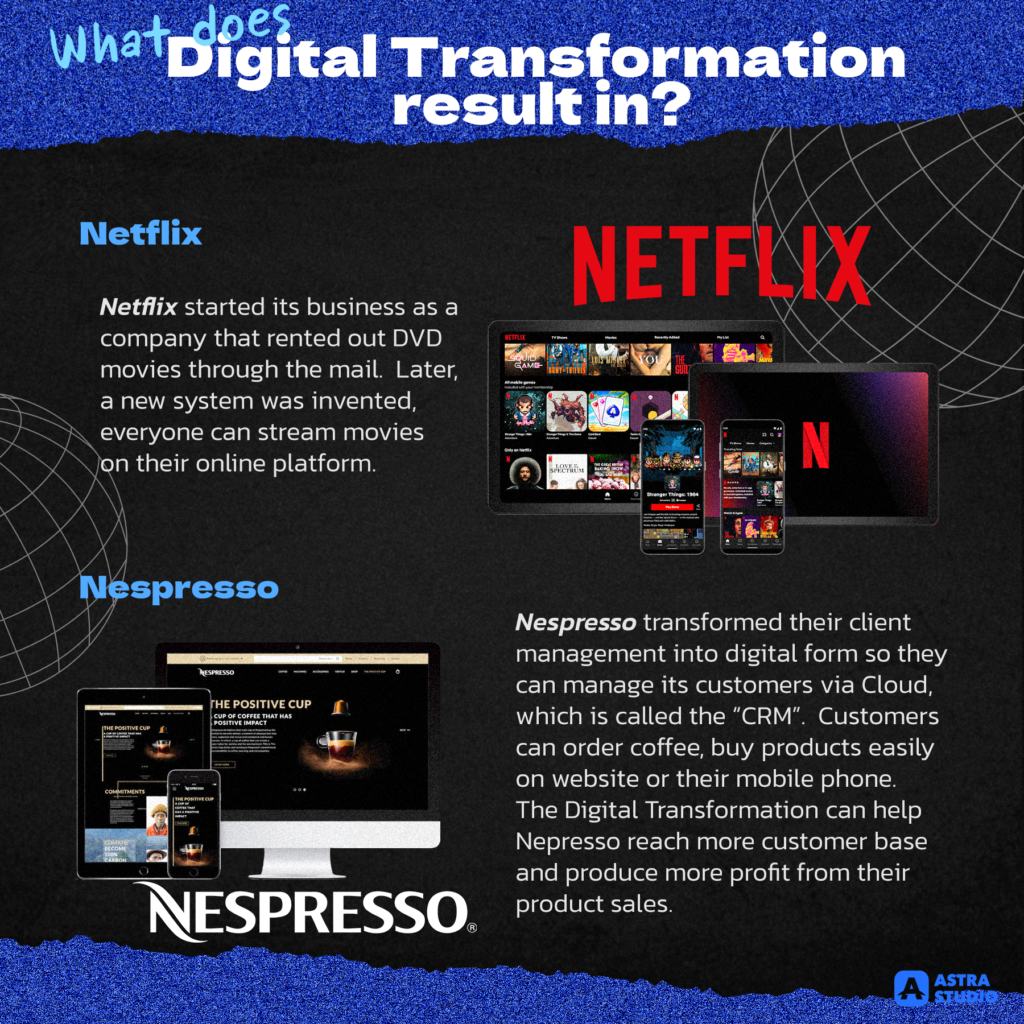 Netflix
Netflix started its business as a company that rented out DVD movies through the mail. Later, a new system was invented, everyone can stream movies on their online platform
Nespresso
Nespresso transformed their client management into digital form so they can manage its customers via Cloud, which is called the "CRM". Customers can order coffee, buy products easily on website or their mobile phone. The Digital Transformation can help Nepresso reach more customer base and produce more profit from their product sales
We may notice that Digital Transformation plays a significant part of doing business. If you wish to launch your own business, you may have to adopt technology into your business as well.
Anyone who wishes to overcome your business boundaries, you can contact us. Astra Studio provides complete digital services and has specialists who can advise and help your business grow. We hope that our services will be a part of your success.
Please make sure you do not miss any updated news by following our social media as follows:
Facebook: https://www.facebook.com/astrastudio.digital
Medium: https://medium.com/@AstraStudio
Website: https://astrastudio.digital/