How to get our NFTs to reach more clients?
NFT ( Non – Fungible token) or digital asset cannot be duplicated or edited. Many artworks e.g., arts, music, games, etc can be formed into digital assets called 'NFT'.
NFT is the tool for artists to express their ideas and artworks through digital forms. People will get to know the artists easier if we create our artworks in NFTs form.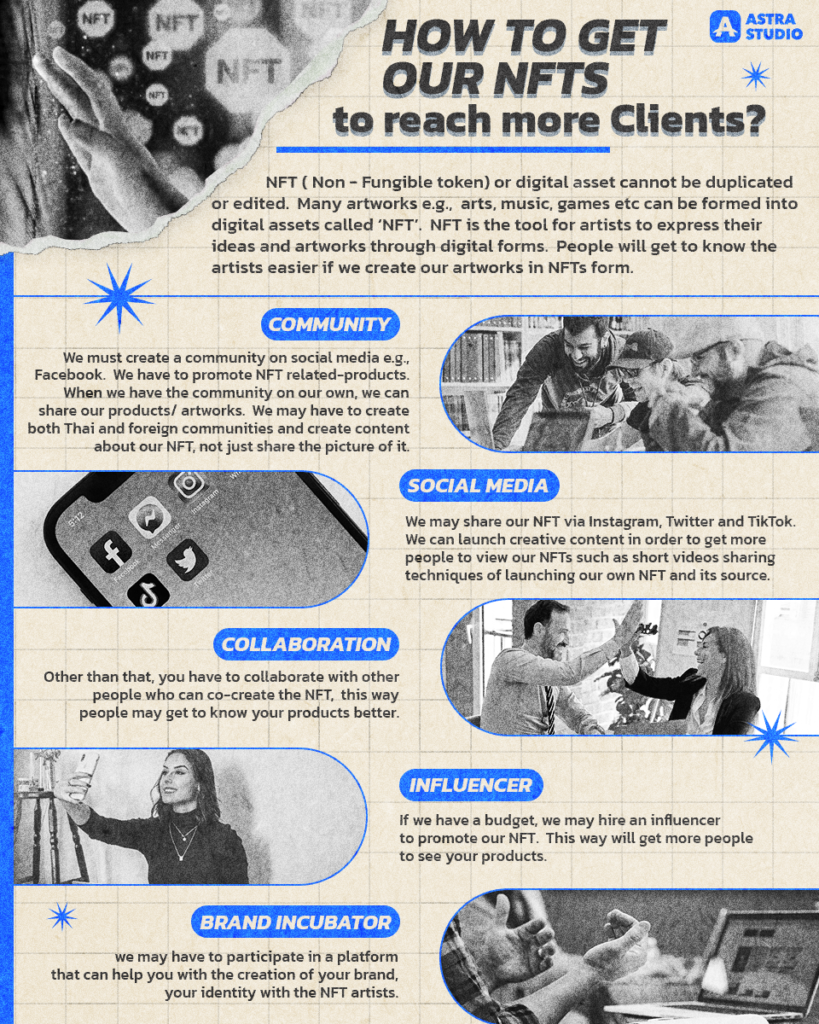 However, to sell NFT is not easy. When posting the NFT to sell on the NFT marketplace, there may not be so many people who are interested in your artworks. So, the question is, how can we improve our NFT to reach more clients? Today we're gonna talk about how to get our NFTs to reach more clients.
Community.
We must create a community on social media e.g., Facebook. We have to promote NFT related-products. When we have the community on our own, we can share our products/ artworks. We may have to create both Thai and foreign communities and create content about our NFT, not just share the picture of it.
Social Media
We must use social media in a productive way. We may share our NFT via Instagram, Twitter and TikTok. We can launch creative content in order to get more people to view our NFTs such as short videos sharing techniques of launching our own NFT and its source.
Other than that, you have to collaborate with other people who can co-create the NFT, this way people may get to know your products better.
Influencer
If we have a budget, we may hire an influencer to promote our NFT. This way will get more people to see your products.
Last but not least, we may have to participate in a platform that can help you with the creation of your brand, your identity with the NFT artists. Just like you have your team to take care of your marketing strategy, providing you solutions to get people to reach your products so you can have time to focus more about producing other artworks.
Astra Studio also can help NFTs artists to reach more clients. We offer Brand Incubator to take care of your collections and grow together. We hope that we will be a part of your creativity. If you are interested, please contact us at your convenience.
Please make sure you do not miss any updated news by following our social media as follows:
Facebook: https://www.facebook.com/astrastudio.digital
Medium: https://medium.com/@AstraStudio
Website: https://astrastudio.digital/