How Businesses adopt NFT? Giving New Experience for Clients
NFT or Non-Fungible-Token is a digital asset which people normally use in order to facilitate in buying and selling artworks.
However, NFT can do more than that. Many businesses are interested in NFT more than ever before. Businesses use NFT to expand their target client base in order for them to perceive their brands.
NFT is one of the significant players in Crypto world. Many industries including artists, singers, actors decide to use NFT as a tool to reach more client base. NFT is growing very fast nowaday. Today we will talk about how NFT plays significant roles in each industry.
NFT in the Music Industry.
Recently, we may notice that there are many of the musical project that get involved in NFT e.g. Listen to Earn produced by Gala Music in which users can listen to the music and earn passive income at the same time. Spotify also launched their project called "Spotify Island". Users of Spotify can meet and greet their favorite artists and unlock a very exclusive content on this platform.
Coachella, the very most famous music festival hosted on April 2022, also cooperated with the FTX to launch an NFT project called 2022 In Bloom FTX NFT. It is a picture of the flower created into NFT. This flower NFT will be given away to participants of Coachella by airdrop through FTX platform. We will be given a seed of flower in the first place.
NFT in the Luxury Brand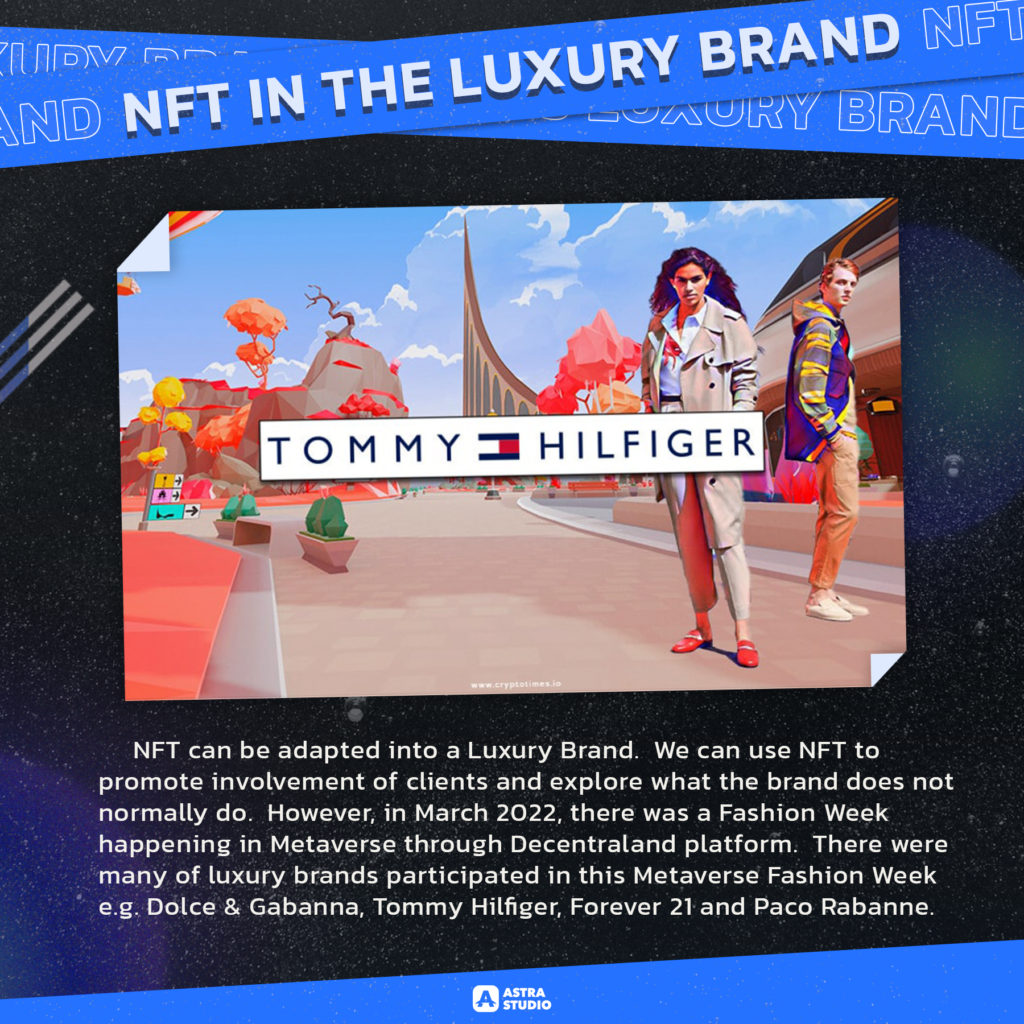 NFT can be adapted into a Luxury Brand. We can use NFT to promote involvement of clients and explore what the brand does not normally do. Generally, when Luxury Brand launched their new collections, they will debut their fashion weeks and invite celebrities all around the world. Only invitees can participate in the fashion week. However, in March 2022, there was a Fashion Week happening in Metaverse through Decentraland platform. There were many of luxury brands participated in this Metaverse Fashion Week e.g. Dolce & Gabanna, Tommy Hilfiger, Forever 21 and Paco Rabanne. Fans could joined the Fashion Week. There were cloths, jewelry NFTs sale. NFTs could help Luxury Brand get more client base.
NFT for Exclusive Campaign
Many businesses adopt NFT to innovate their services. However, they normally adopt the NFT for issuance of token. Wine business in USA "Robert Mondavi Winery" adopted NFT to sell NFT of wine in the amount of $3,900 (aprroximately ฿133,376). If you buy such NFT, you can claime your privilege such as a bottle of wine or sipping a glass of wine.
NFT in Donation Campaign
Renowned brand MAC collaborated with Keith Haring Foundation, a donation organization for kids and AIDS patients, launched campaign called VIVA GLAM x Keith Haring NFTs, a limited collection to educate about HIV/AIDS in national juvenile day and promote equality. There were 3 collections of NFTs in this regard.

– Keith Haring Red – Rare $25/piece with a total of 5,000 pieces
– Keith Haring Blue – Exclusive $150/piece with a total of 250 pieces
– Keith Haring Yellow – $1,000/piece with a total of 25 pieces. There was also an exclusive priviledge granted to participates to meet with MAC artists and consult them about the MAC products for 30 minutes
The revenue generated by this campaign will be deducted 100% and donated to HIV/AIDS organizations. This campaign received funding around a half of a billion dollars.

NFT and Real Estate
Sansiri launched a new NFT project. If you buy a condominium unit, Sansiri will give you a Land NFT on the Sandbox platform. This is the first campaign ever in Thailand. As you may know, a land parcel on the Sandbox is very expensive. If you reserve a condominium unit, you will be granted a Land NFT size 3×3 in the amount of 5 million Baht.
There also many of businesses invest in pieces of land on the Sandbox e.g. Animoca Brand, Biance (crypto exchanges), The Walking Dead (famous zombie series). They launched their games in the Sandbox. So, when you buy a condominium unit with Sandsiri, you will obtain a piece of land on the Sandbox as well. You can invest in both in a condominium and a land parcel in Metaverse with Sansiri
NFT and Movie Industry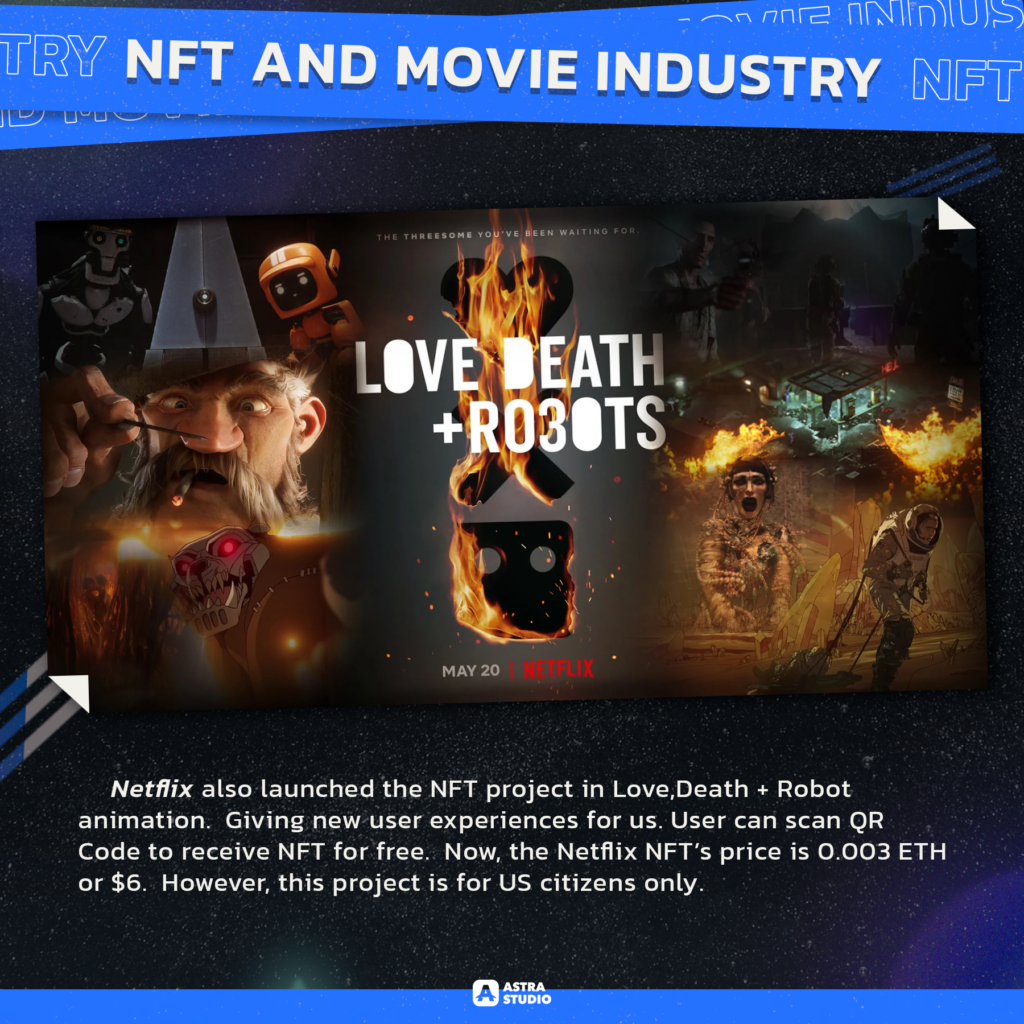 Netflix also launched the NFT project in Love,Death + Robot animation. Giving new user experiences for us. User can scan QR Code to receive NFT for free. Now, the Netflix NFT's price is 0.003 ETH or $6. However, this project is for US citizens only.
All the examples above are raised for the reader to understand how NFT can be adapted in businesses. They can generate more profit and reach a larger client base by using NFTs.
If you are interested in creating NFT, you can contact Astra Studio as well. We have a professional team that can give new ideas for you.
Please make sure you do not miss any updated news by following our social media as follows:
Facebook: https://www.facebook.com/astrastudio.digital
Medium: https://medium.com/@AstraStudio
Website: https://astrastudio.digital/