5 Guidelines for SEO Writing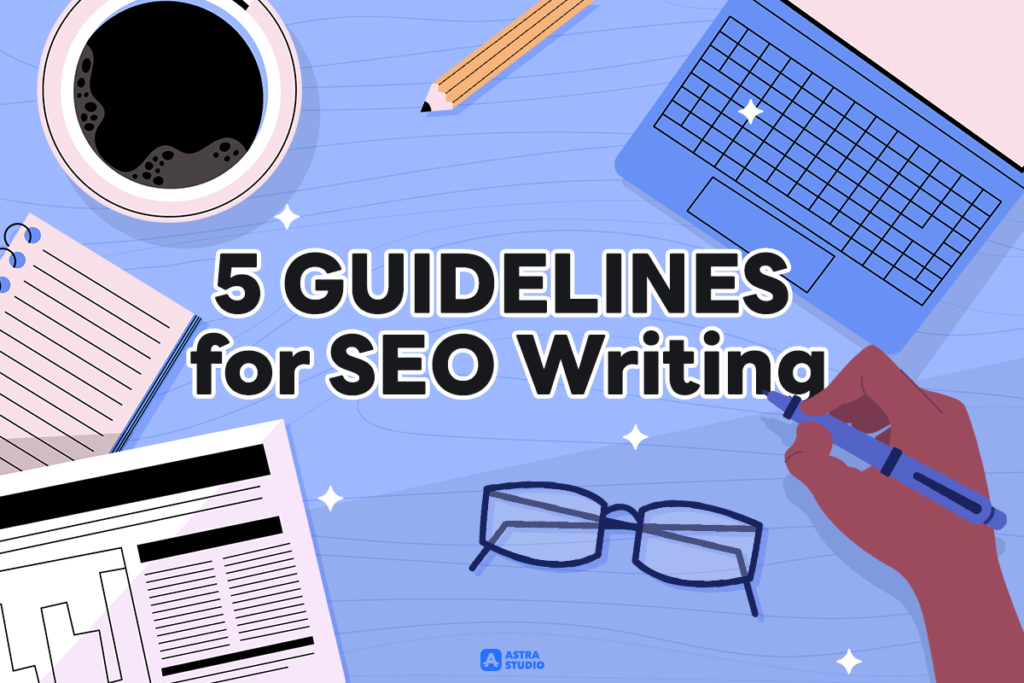 If now, your website has not yet appeared on the first page, you might think about other factors for SEO Writing.
Anyone who has not seen the topic of "How to write SEO in the right way" can catch up now. But, sometimes, using relatable keywords has not made them appear on the first page.
What are the best practices for SEO Writing?
According to HubSpot, 75% of searchers never make it to the first page of search results – this is why ranking on the first page of Google is essential.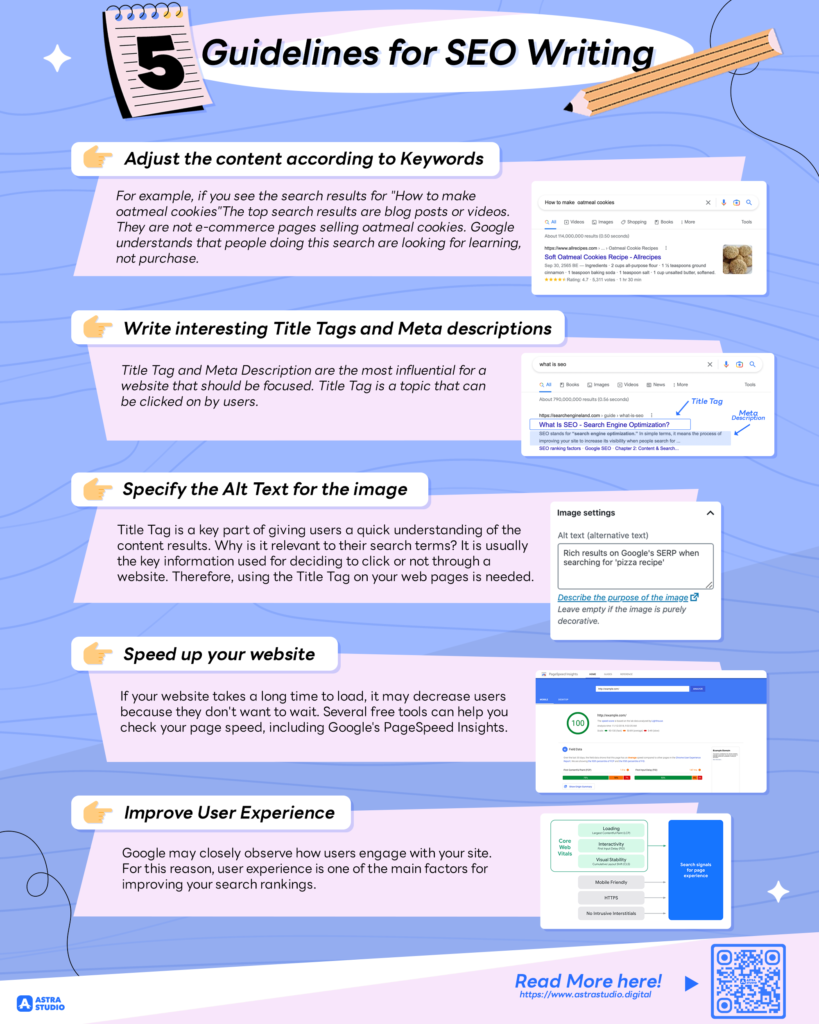 Adjust the SEO Writing according to keywords
Now that you know what SEO is and how to find keywords for the target, you may think deeper about searching content and searching intention (also known as "User intent"). This is the purpose behind every search term, and understanding searching is Google's top priority.
For example, if you see the search results for "how to make oatmeal cookies"
The top search results are blog posts or videos. They are not e-commerce pages selling oatmeal cookies. Google understands that people doing this search are looking for learning, not purchase.
On the other hand, a top result for a search term like "buy oatmeal cookies" is an e-commerce page. Because this case, Google understands that people are in purchase mode. Then, the top result links to oatmeal cookie recipes are not included.
So if you want your website to be in the #1 rank, on Google in 2021, you need to understand the concept of searching intent and creating content that aligns with user intent.
There are four general search intents:
Information: Searching is subject to informational intent when a user is looking for specific information. It can be a simple search like "how's the weather today" that provides immediate results or something complex like "best SEO strategy" that requires a more in-depth description.
Navigation: In this case, the searcher is looking for a specific website or app. Typical examples of navigation searches include "Facebook Login" and "Amazon"
Commercial: The purpose of a search is commercial when a user is looking for a specific product but has not yet made a final decision. For example, searches such as "best SEO tools" and "best DSLR cameras" are all commercial searches.
Transactional: Here, the intent is to purchase. Searchers have already decided to buy a specific product or tool. Examples include searches such as "buy Nikon d500," "buy Macbook Air," and "buy groceries online."
Write interesting Title Tags and Meta descriptions
Title Tag and Meta Description are the most influential for a website that should be focused. Title Tag is a topic that can be clicked on by users.
Title Tag
According to Google: Title Tag is a key part of giving users a quick understanding of the content results. Why is it relevant to their search terms? It is usually the key information used for deciding to click or not through a website. Therefore, using the Title Tag on your web pages is needed.
*Search engines such as Google usually show 50-60 words of your title and the description in 60 words or less.
Best techniques to keep in mind while creating a Title Tag:
include your target keywords
write a name that matches the search intent
avoid creating repeated name tags
avoid entering keywords
explain shortly but easily understood
Meta Description
Meta Description is the second most important. The Meta Description is the short summary of SERP (Search Engine Results Page) shown under the Title Tag. The Meta Description might not affect search rankings but can affect click-through rates.
Google explains: "Generally, Meta Description tags should inform and engage users with a short summary of relevant information about the website. It is a kind of sales pitch that convinces the users that the page is what they are looking for"
Google always shortens your Meta Description to 155–160 words, so make sure you provide an accurate summary of your content under 160 words.
Best techniques to keep in mind while creating a Meta Description
Write a unique Meta Description for each page
Include your target keywords
Provide accurate summaries
Specify the Alt Text for the image
Although Google has developed so far, it still does not understand the picture if we don't put text on it. Therefore, adding text to images is essential. It helps in the accessibility of your website.
Google said:
When selecting Alt Text, focus on creating useful content, which contains information that uses keywords appropriately and within the context of the content on the page. Avoid the misuse of keywords that will result in a negative user experience and may cause your site to be seen as spam.
Speed ​​up your website
If your website takes a long time to load, it may decrease users because they don't want to wait. Several free tools can help you check your page speed, including Google's PageSpeed ​​Insights.
My recommended tool for this job is GTMetrix. This free tool provides insights into your page speed and advises on steps you can take to improve load times.
In addition to image compression, you can follow these steps to help the pages load faster:
Enable browser caching
Remove unnecessary plugins
Reduce server response time
Reduce the number of redirects
Minimize CSS and JavaScript files
Improve User Experience
Google may closely observe how users engage with your site. For this reason, user experience is one of the main factors for improving your search rankings.
As mentioned above, page speed plays a vital part in improving the user experience of your site visitors.
Here are some other SEO tips to ensure a good user experience when visiting your site:
Use subheadings: Proper use of subheadings (H1, H2, H3) helps Google better understand your content and make your message more accessible to readers.
Make your content visually inviting: Several studies indicate that images help people understand your content better. Use relevant pictures, videos, and screenshots to illustrate your point.
Avoid using intrusive pop-ups: Pop-ups are not only deficient from an SEO point of view but they also trouble your visitors. Since 2017, Google has penalized sites for using intrusive pop-ups. Therefore, it should be used if needed.
Use white space: White space is a fundamental element of proper design. According to the Interaction Design Foundation, white space (or negative space) adds clarity to branding and focus.
Therefore, consider using white space to make your content more readable and catch users' attention.
Make your site mobile-friendly: Mobile-friendly is paramount when it comes to user experience, as Google uses mobile-first indexing. You can use Google's Mobile-Friendly Test to see how much your website is worth.
Please make sure you do not miss any updated news by following our social media as follows:
Facebook: https://www.facebook.com/astrastudio.digital
Medium: https://medium.com/@AstraStudio
Website: https://astrastudio.digital/