How to Layout in 10 styles. Don't miss! UI designers MUST read!!
Although UI design trends have come and gone, and many styles, these trends always have patterns and outlines to work. As for web layout design results in user-friendliness and the ability to adapt to changing trends and technology.
Practical UI layout styles must be adaptable to varying trends; for example, card-style layouts and grids can be used in many ways. It can be adjusted to look modern and keep up with trends. Even though these layouts have been around for many years, they can still be adapted to look trendy.
What is Layout?
The layout is the visual structure of the interface, content prioritization helps users see more content, and good layout design is related to the user. Also, it reflects a good user experience. Therefore, having the proper layout helps users quickly find what they are looking for, reflects more conversions, and allows more engagement on the site.
We can improve this with a good layout and add dynamics to make the web page looks more appealing. It's not just attractive, but it's user-friendly as well. To create a structure, we need to know about the principles of laying spaces to create a professional layout.
Card Style Layout
Card Style Layout earns popularity with sites like Pinterest, Facebook, and Twitter. It has become a standard for news sites and blogs because it can place much content on one page. While maintaining the difference between each section
These layouts use content blocks similar to cards with various shapes and sizes. There are two major layout styles; the first arranges cards of the same size on a grid, and the second uses a layout with cards of different sizes set as column orderly but no clear rows (like Pinterest layouts).
Card layouts work well because they allow different content to be arranged neatly while keeping all the pieces separate. Cards are also familiar to people because users are familiar with them well.
Split-Screen Layout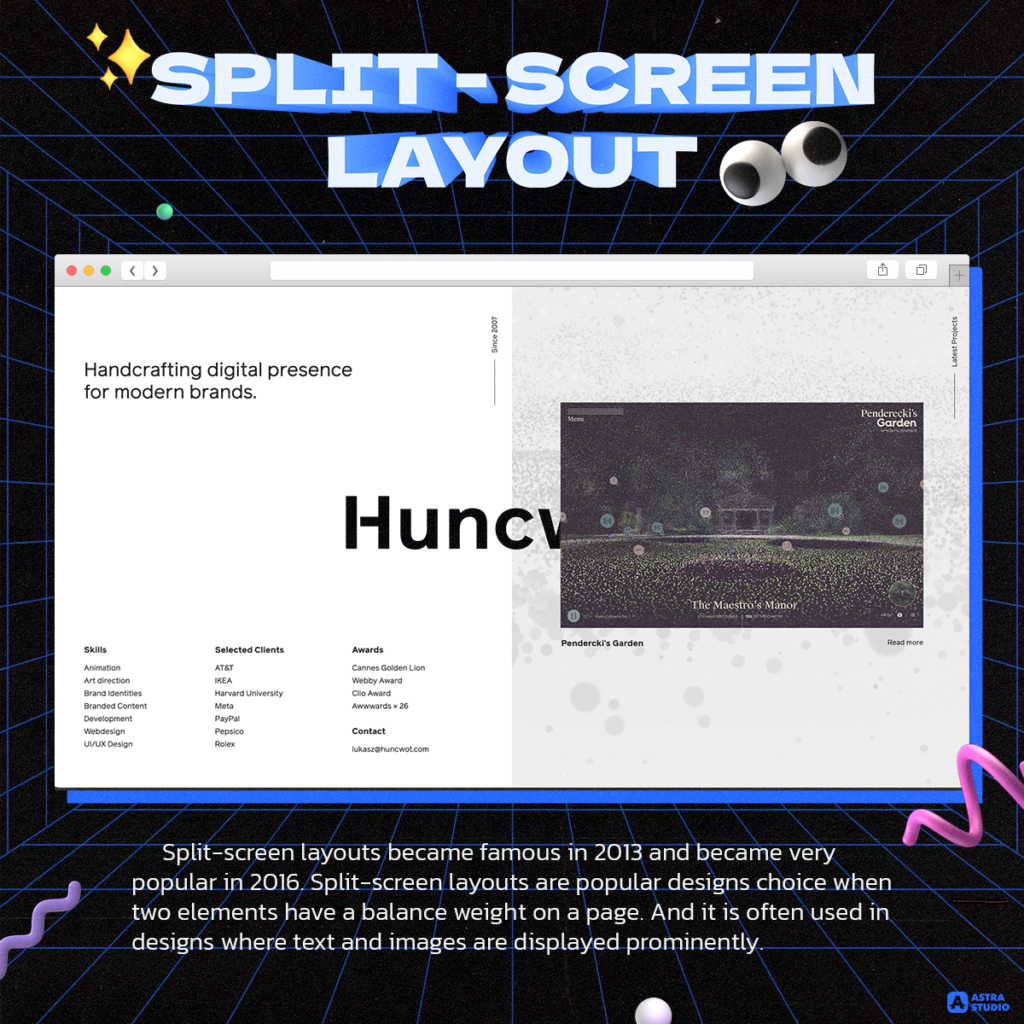 Split-screen layouts became famous in 2013 and became very popular in 2016. Split-screen layouts are popular designs choice when two elements have a balance weight on a page. And it is often used in designs where text and images are displayed prominently.
Most split-screen designs are divided evenly, although some are split at different ratios 33:66 or 40:60 split ratios are the most popular. When splitting the screen into smaller 1/3 sizes, it's more like a sidebar than a split screen design.
The split-screen design is perfect for product pages on e-commerce websites. Product images must stand out on these pages and be able to collect important information such as price, specifications, add to cart button, and product options as well.
Big Typography Layout
Capitalization is especially popular in headings and titles. But it is also seen in the content on some websites. Once choosing a suitable font, larger text will be more comfortable to read, improve the user experience, and even make a powerful visualization. It is widespread in minimalist designs where other visual elements are largely missing.
Personalization
Personalized algorithms have been used for years, tailoring the digital experience to individual preferences. AI makes these algorithms even more helpful with features such as algorithms with recommendations that can accurately predict what people will want to watch, read, learn, or buy next.
To provide users with content that matches their preferencesNetflix, for example, has a superior predictive algorithm that suggests the movies and TV shows they're most likely to watch based on choices of member page.
Grid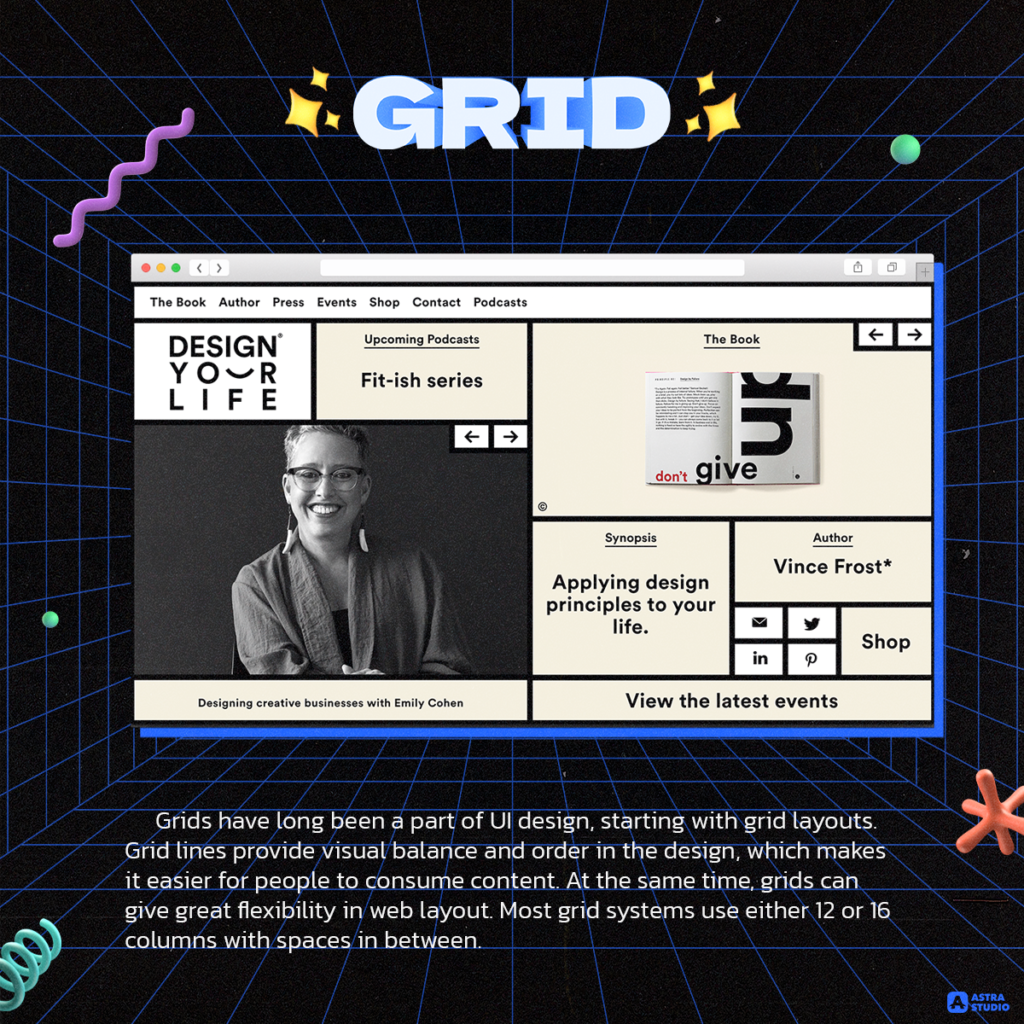 Grids have long been a part of UI design, starting with grid layouts. Grid lines provide visual balance and order in the design, which makes it easier for people to consume content. At the same time, grids can give great flexibility in web layout. Most grid systems use either 12 or 16 columns with spaces in between.
In addition to column-based layout grids, basic grids are commonly used in web design to space out elements horizontally. This is most noticeable in print when checking the line spacing of content and headlines, for example. The horizontal grid spacing is closely related to the vertical grid spacing used in web design.
Magazine Style Web Layout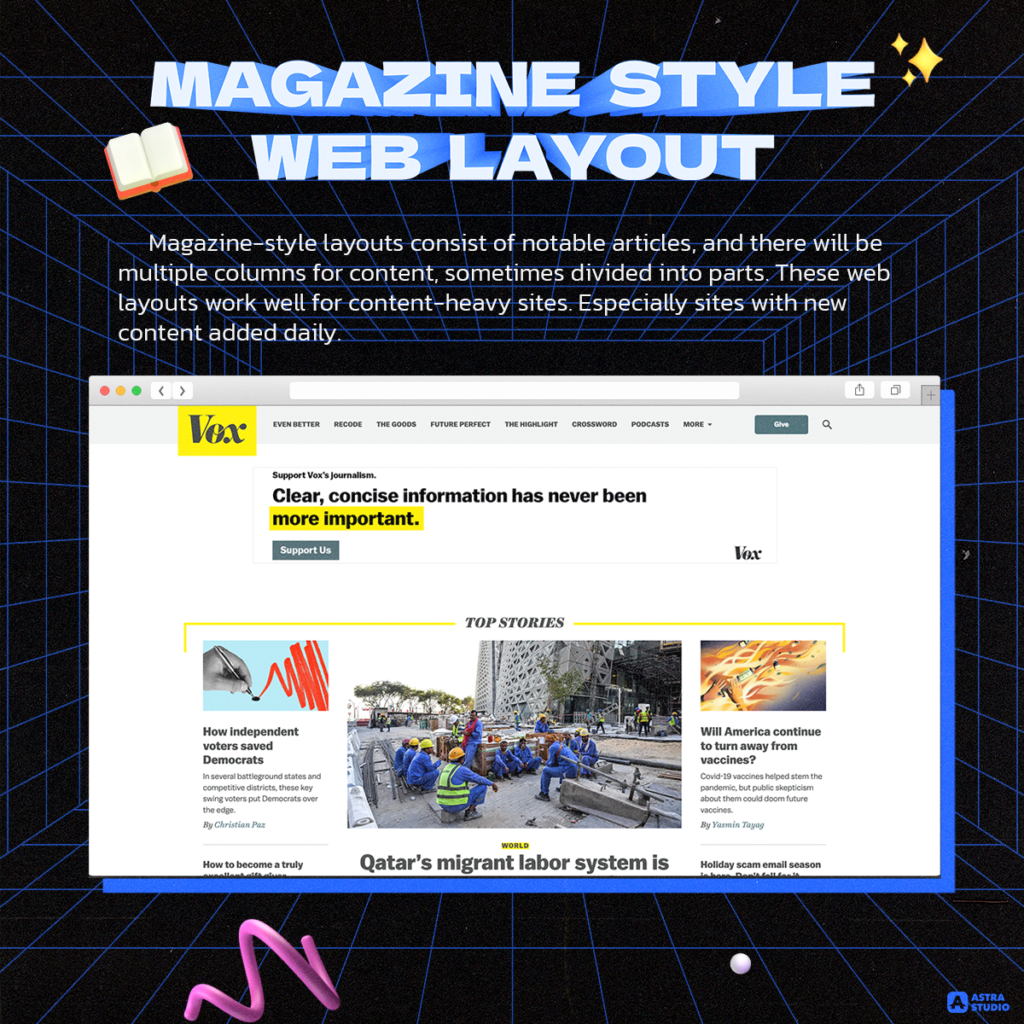 In the early days, it was mostly seen on news websites and online magazines. Over time their popularity grew in other areas. And now, it will be seen on different types of sites. Including e-commerce sites and blogs
Magazine-style layouts consist of notable articles, and there will be multiple columns for content, sometimes divided into parts. These web layouts work well for content-heavy sites. Especially sites with new content added daily.
Single Page Layout
The single page layout puts all the main content on one page by navigating to other sections with continuous scrolling, and there's always a shortcut to jump to a particular section. Sometimes there is a parallax scrolling effect.
One-page website layouts are an excellent solution for content-scattered sites. It's also perfect for storytelling content, such as interactive children's books.
F- Z- Pattern
The F and Z patterns refer to how people's eyes move on the page and how people scan the content. The F format has the content featured at the top of the page, with additional content aligned at the bottom on the left side of the page. (as "F" shape)
The Z format has the main content at the top, with helpful additional content below. The eyes are drawn diagonally from the top right corner to the bottom left corner of the page (as "Z" shape).
The F style is better suited to content pages than the Z style, which has an apparent visual order. The Z style is more useful when there are two equally (or similar) related articles of content that the viewer should see.
Asymmetry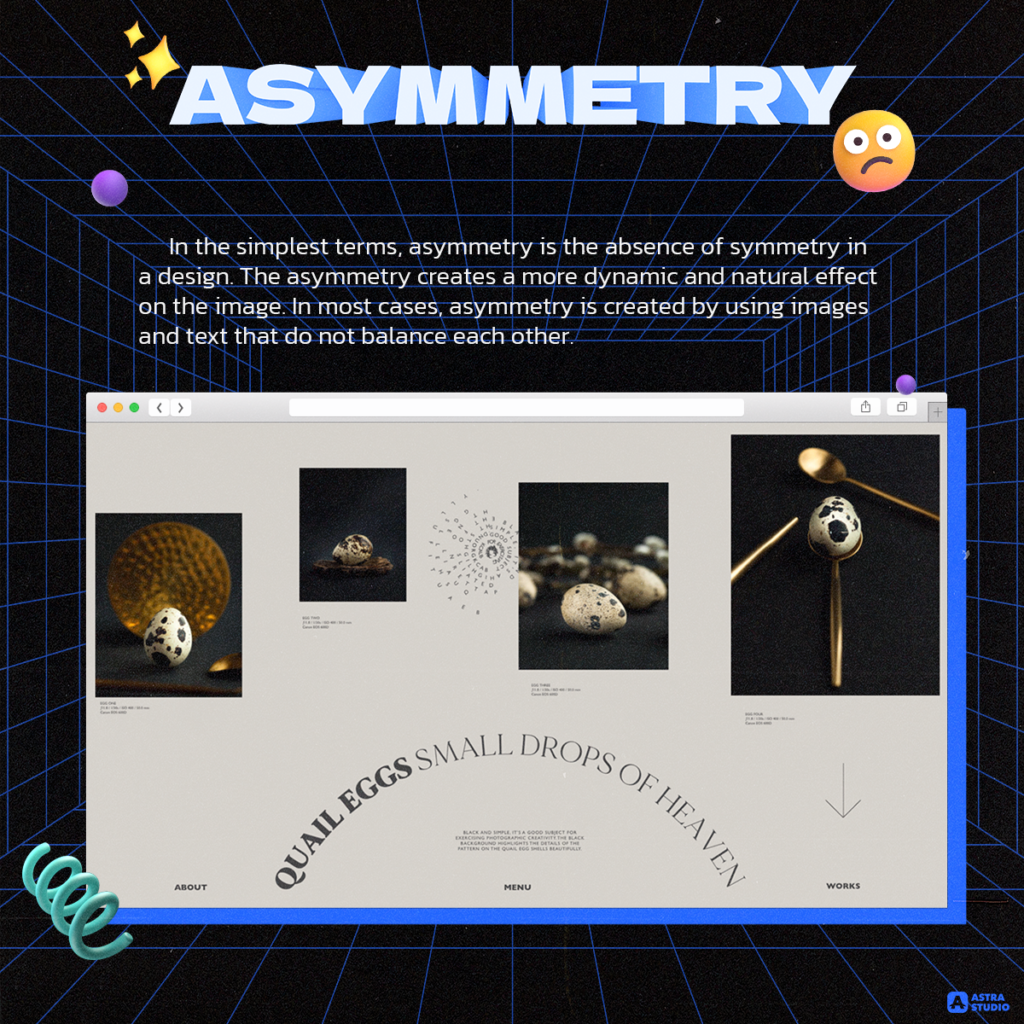 In the simplest terms, asymmetry is the absence of symmetry in a design. The asymmetry creates a more dynamic and natural effect on the image. In most cases, asymmetry is created by using images and text that do not balance each other.
Because the asymmetry creates a lively and powerful visual impression, it's useful for brands who want to communicate that vision. Also, asymmetry can be unexpected, which makes the design more memorable, and it works.
Navigation tabs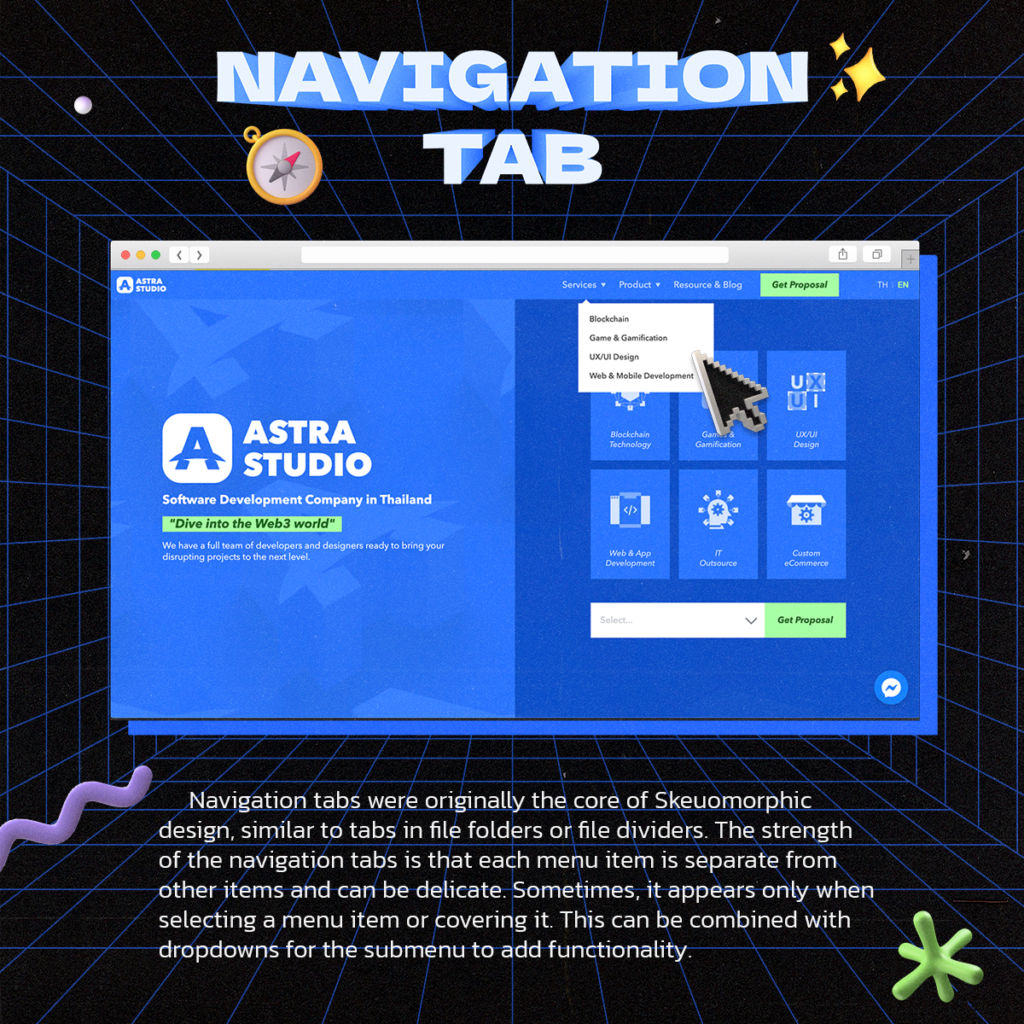 Navigation tabs were originally the core of Skeuomorphic design, similar to tabs in file folders or file dividers. The strength of the navigation tabs is that each menu item is separate from other items and can be delicate. Sometimes, it appears only when selecting a menu item or covering it. This can be combined with dropdowns for the submenu to add functionality.
The layout of the structure is quite diverse. Apart from being attractive and easy for users, it can also help UI designers work more efficiently. Because having a good structure will allow arranging different proportions more easily.
For those who are interested in website design or want your website to look better than ever, Astra Studio we have a highly experienced team ready to give advice and consultation. You can be sure that your work will turn out as intended. 
Please make sure you do not miss any updated news by following our social media as follows:
Contact Us:  Contact us 
Medium: Medium Astra Studio
Website: Astra Studio